Seamless elbow:1/2"~24" DN15~DN600
Welded Elbow: 4"~72" DN150~DN1800
Wall Thinkness
sch10, sch20, sch30, std, sch40, sch60, xs, sch80, sch100,
sch120, sch140, sch160, xxs, std,sch5s, sch20s, sch40s, sch80s
Maximum thickness: 120mm
Materials
Carbon steel: ASTM/ASME A234 WPB,WPC
Alloy steel: ASTM/ASME A234 WP 1-WP 12-WP 11-WP 22-WP 5-WP 91-WP 911
Stanless steel: ASTM/ASME A403 WP 304-304L-304H-304LN-304N
ASTM/ASME A403 WP 316-316L-316H-316LN-316N-316Ti
ASTM/ASME A403 WP 321-321H ASTM/ASME A403 WP 347-347H
Low-temperature steel:ASTM/ASME A402 WPL 3-WPL 6
High performance: ASTM/ASME A860 WPHY 42-46-52-60-65-70
Specifications for Pipe Tee
Carbon Steel Equal Tee Specifications
| | | |
| --- | --- | --- |
| | | |
| Straight Tee | Reducing Tee | Cross |
Nominal Diameter

Outside Diameter

Center to End

D1

D2

DN

NPS

Series A

Series B

Series A

Series B

C

M

15×15×15

1/2×1/2×1/2

21.3

18

21.3

18

25

25

15×15×10

1/2×1/2×3/8

21.3

18

17.3

14

25

25

15×15×8

1/2×1/2×1/4

21.3

18

13.7

10

25

25

20×20×20

3/4×3/4×3/4

26.9

25

26.9

25

29

29

20×20×15

3/4×3/4×1/2

26.9

25

21.3

18

29

29

20×20×10

3/4×3/4×3/8

26.9

25

17.3

14

29

29

25×25×25

1×1×1

33.7

32

33.7

32

38

38

25×25×20

1×1×3/4

33.7

32

26.9

25

38

38

25×25×15

1×1×1/2

33.7

32

21.3

18

38

38

32×32×32

1.1/4×1.1/4×1.1/4

42.4

38

42.4

38

48

48

32×32×25

1.1/4×1.1/4×1

42.4

38

33.7

32

48

48

32×32×20

1.1/4×1.1/4×3/4

42.4

38

26.9

25

48

48

32×32×15

1.1/4×1.1/4×1/2

42.4

38

21.3

18

48

48

40×40×40

1.1/2×1.1/2×1.1/2

48.3

45

48.3

45

57

57

40×40×32

1.1/2×1.1/2×1.1/4

48.3

45

42.4

38

57

57

40×40×25

1.1/2×1.1/2×1

48.3

45

33.7

32

57

57

40×40×20

1.1/2×1.1/2×3/4

48.3

45

26.9

25

57

57

40×40×15

1.1/2×1.1/2×1/2

48.3

45

21.3

18

57

57

50×50×50

2×2×2

60.3

57

60.3

57

64

64

50×50×40

2×2×1.1/2

60.3

57

48.3

45

64

60

50×50×32

2×2×1.1/4

60.3

57

42.4

38

64

57

50×50×25

2×2×1

60.3

57

33.7

32

64

51

50×50×20

2×2×3/4

60.3

57

26.9

25

64

44

65×65×65

2.1/2×2/1/2×2.1/2

73.0

76

73.0

76

76

76

65×65×50

2.1/2×2/1/2×2

73.0

76

60.3

57

76

70

65×65×40

2.1/2×2/1/2×1.1/2

73.0

76

48.3

45

76

67

65×65×32

2.1/2×2/1/2×1.1/4

73.0

76

42.4

38

76

64

65×65×25

2.1/2×2/1/2×1

73.0

76

33.7

32

76

57

80×80×80

3×3×3

88.9

89

88.9

89

86

86

80×80×65

3×3×2.1/2

88.9

89

73.0

76

86

83

80×80×50

3×3×2

88.9

89

60.3

57

86

76

80×80×40

3×3×1.1/2

88.9

89

48.3

45

86

73

80×80×32

3×3×1.1/4

88.9

89

42.4

38

86

70

90×90×90

3.1/2×3.1/2×3.1/2

101.6

-

101.6

-

95

95

90×90×80

3.1/2×3.1/2×3

101.6

-

88.9

89

95

92

90×90×65

3.1/2×3.1/2×2.1/2

101.6

-

73.0

76

95

89

90×90×50

3.1/2×3.1/2×2

101.6

-

60.3

57

95

83

90×90×40

3.1/2×3.1/2×1.1/2

101.6

-

48.3

45

95

79

100×100×100

4×4×4

114.3

108

114.3

108

105

105

100×100×90

4×4×3.1/2

114.3

108

101.6

-

105

102

100×100×80

4×4×3

114.3

108

88.9

89

105

98

100×100×65

4×4×2.1/2

114.3

108

73.0

76

105

95

100×100×50

4×4×2

114.3

108

60.3

57

105

89

100×100×40

4×4×1.1/2

114.3

108

48.3

45

105

86

125×125×125

5×5×5

141.3

133

141.3

133

124

124

125×125×100

5×5×4

141.3

133

114.3

108

124

117

125×125×90

5×5×3.1/2

141.3

-

101.6

-

124

114

125×125×80

5×5×3

141.3

133

88.9

89

124

111

125×125×65

5×5×2.1.2

141.3

133

73.0

76

124

108

125×125×50

5×5×2

141.3

133

60.3

57

124

105

150×150×150

6×6×6

168.3

159

168.3

159

143

143

150×150×125

6×6×5

168.3

159

141.3

133

143

137

150×150×100

6×6×4

168.3

159

114.3

108

143

130

150×150×90

6×6×3.1/2

1, 68.3

-

101.6

-

143

127

150×150×80

6×6×3

168.3

159

88.9

89

143

124

150×150×65

6×6×2.1/2

168.3

159

73.0

76

143

121

200×200×200

8×8×8

219.1

219

219.1

219

178

178

200×200×150

8×8×6

219.1

219

168.3

159

178

168

200×200×125

8×8×5

219.1

219

141.4

133

178

162

200×200×100

8×8×4

219.1

219

114.3

108

178

156

200×200×90

8×8×3.1/2

219.1

-

101.6

-

178

152

250×250×250

10×10×10

273.0

273

273.0

273

216

216

250×250×200

10×10×8

273.0

273

219.1

219

216

203

250×250×150

10×10×6

273.0

273

168.3

159

216

194

250×250×125

10×10×5

273.0

273

141.3

133

216

191

250×250×100

10×10×4

273.0

273

114.3

108

216

184

300×300×300

12×12×12

323.9

325

323.9

325

254

254

300×300×250

12×12×10

323.9

325

273.0

273

254

241

300×300×200

12×12×8

323.9

325

219.1

219

254

229

300×300×150

12×12×6

323.9

325

168.3

159

254

219

300×300×125

12×12×5

323.9

325

141.3

133

254

216

350×350×350

14×14×14

355.6

377

355.6

377

279

279

350×350×300

14×14×12

355.6

377

323.9

325

279

270

350×350×250

14×14×10

355.6

377

273.0

273

279

257

350×350×200

14×14×8

355.6

377

219.1

219

279

248

350×350×150

14×14×6

355.6

377

168.3

159

279

238

400×400×400

16×16×16

406.4

426

406.4

426

305

305

400×400×350

16×16×14

406.4

426

355.6

377

305

305

400×400×300

16×16×12

406.4

426

323.9

325

305

295

400×400×250

16×16×10

406.4

426

273.0

273

305

283

400×400×200

16×16×8

406.4

426

219.1

219

305

273

400×400×150

16×16×6

406.4

426

168.3

159

305

264

450×450×450

18×18×18

457

480

457

480

343

343

450×450×400

18×18×16

457

480

406.4

426

343

330

450×450×350

18×18×14

457

480

355.6

377

343

330

450×450×300

18×18×12

457

480

323.9

325

343

321

450×450×250

18×18×10

457

480

273.0

273

343

308

450×450×200

18×18×8

457

480

219.1

219

343

298

500×500×500

20×20×20

508

530

508

530

381

381

500×500×450

20×20×20

508

530

457

480

381

368

500×500×400

20×20×20

508

530

406.4

426

381

356

500×500×350

20×20×20

508

530

355.6

377

381

356

500×500×300

20×20×20

508

530

323.9

325

381

346

500×500×250

20×20×20

508

530

273.0

273

381

333

500×500×200

20×20×20

508

530

219.1

219

381

324

550×550×550

22×22×22

559

-

559

-

419

419

550×550×500

22×22×20

559

-

508

-

419

406

550×550×450

22×22×18

559

-

457

-

419

394

550×550×400

22×22×16

559

-

406.4

-

419

381

550×550×350

22×22×14

559

-

355.6

-

419

381

550×550×300

22×22×12

559

-

323.9

-

419

371

550×550×250

22×22×10

559

-

273.0

-

419

359

600×600×600

24×24×24

610

630

610

630

432

432

600×600×550

24×24×22

610

-

559

-

432

432

600×600×500

24×24×20

610

630

508

530

432

432

600×600×450

24×24×18

610

630

457

480

432

419

600×600×400

24×24×16

610

630

406.4

426

432

406

600×600×350

24×24×14

610

630

355.6

377

432

406

600×600×300

24×24×12

610

630

323.9

325

432

397

600×600×250

24×24×10

610

630

273.0

273

432

384

650×650×650

26×26×26

660

-

660

-

495

495

650×650×600

26×26×24

660

-

610

-

495

483

650×650×550

26×26×22

660

-

559

-

495

470

650×650×500

26×26×20

660

-

508

-

495

457

650×650×450

26×26×18

660

-

457

-

495

444

650×650×400

26×26×16

660

-

406.4

-

495

432

650×650×350

26×26×14

660

-

355.6

-

495

432

650×650×300

26×26×12

660

-

323.9

-

495

422

700×700×700

28×28×28

711

720

711

720

521

521

700×700×650

28×28×26

711

-

660

-

521

521

700×700×600

28×28×24

711

720

610

630

521

508

700×700×550

28×28×22

711

-

559

-

521

495

700×700×500

28×28×20

711

720

508

529

521

483

700×700×450

28×28×18

711

720

457

478

521

470

700×700×400

28×28×16

711

720

406.4

426

521

457

700×700×350

28×28×14

711

720

355.6

377

521

457

700×700×300

28×28×12

711

720

323.9

325

521

448

750×750×750

30×30×30

762

-

762

-

559

559

750×750×700

30×30×28

762

-

711

-

559

546

750×750×650

30×30×26

762

-

660

-

559

546

750×750×600

30×30×24

762

-

610

-

559

533

750×750×550

30×30×22

762

-

559

-

559

521

750×750×500

30×30×20

762

-

508

-

559

508

750×750×450

30×30×18

762

-

457

-

559

495

750×750×400

30×30×16

762

-

406.4

-

559

483

750×750×350

30×30×14

762

-

355.6

-

559

483

750×750×300

30×30×12

762

-

323.9

-

559

473

750×750×250

30×30×10

762

-

273.0

-

559

460

800×800×800

32×32×32

813

820

813

820

597

597

800×800×750

32×32×30

813

-

762

-

597

584

800×800×700

32×32×28

813

820

711

720

597

572

800×800×650

32×32×26

813

-

660

-

597

572

800×800×600

32×32×24

813

820

610

630

597

559

800×800×550

32×32×22

813

-

559

-

597

546

800×800×500

32×32×20

813

820

508

529

597

533

800×800×450

32×32×18

813

820

457

478

597

521

800×800×400

32×32×16

813

820

406.4

426

597

508

800×800×350

32×32×14

813

820

355.6

377

597

508

850×850×850

34×34×34

864

-

864

-

635

635

850×850×800

34×34×32

864

-

813

-

635

622

850×850×750

34×34×30

864

-

762

-

635

610

850×850×700

34×34×28

864

-

711

-

635

597

850×850×650

34×34×26

864

-

660

-

635

597

850×850×600

34×34×24

864

-

610

-

635

584

850×850×550

34×34×22

864

-

559

-

635

572

850×850×500

34×34×20

864

-

508

-

635

559

850×850×450

34×34×18

864

-

457

-

635

546

850×850×400

34×34×16

864

-

406.4

-

635

533

900×900×900

36×36×36

914

920

914

920

673

673

900×900×850

36×36×34

914

-

864

-

673

660

900×900×800

36×36×32

914

920

813

820

673

648

900×900×750

36×36×30

914

-

762

-

673

635

900×900×700

36×36×28

914

920

711

720

673

622

900×900×650

36×36×26

914

-

660

-

673

622

900×900×600

36×36×24

914

-

610

-

673

610

900×900×550

36×36×22

914

-

559

-

673

597

900×900×500

36×36×20

914

920

508

529

673

584

900×900×450

36×36×18

914

920

457

478

673

572

900×900×400

36×36×16

914

920

406.4

426

673

559
High-quality products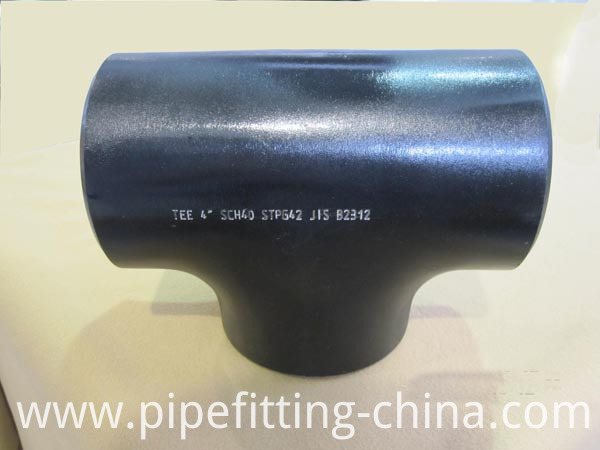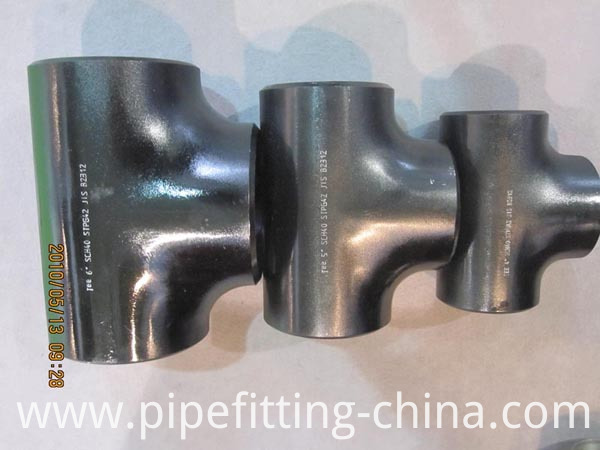 CANGZHOU HAOYUAN PIPEFITTINGS MFG CO., LTD is professional offer Carbon Steel Reducing Tee T , Equal Tee ,Steel Pipe Fittings , Pipe Elbow ( 90 Degree Elbow ,45 Degree Elbow ,180 Degree Elbow , Short Radius Elbow and Long Radius Elbow ) ,Pipe Bend, Pipe Reducer (Concentric Reducers ,Eccentric Reducers ), Pipe Cap . Flange , bends, socket and threaded fittings, Seamless Pipe .

Tee used for the piping system connection. Also known as pipe tee , straight tee or tee fitting,steel tees, a branch in the the main pipe.There are T-shaped and Y-shaped, equal tee and reducing tee, collect three branch pipe to the main pipe. The main role of the tee is to change the direction of flow.
Our packaging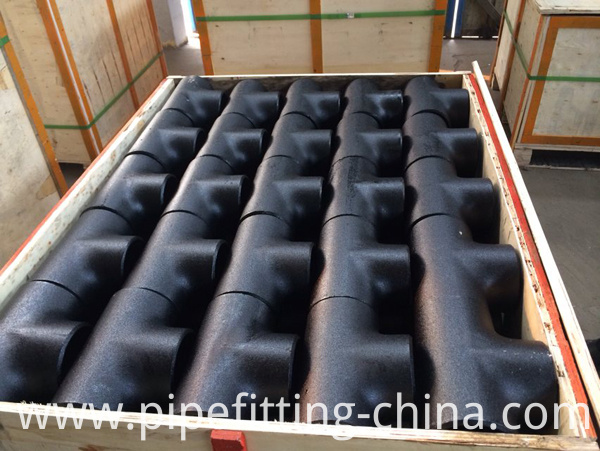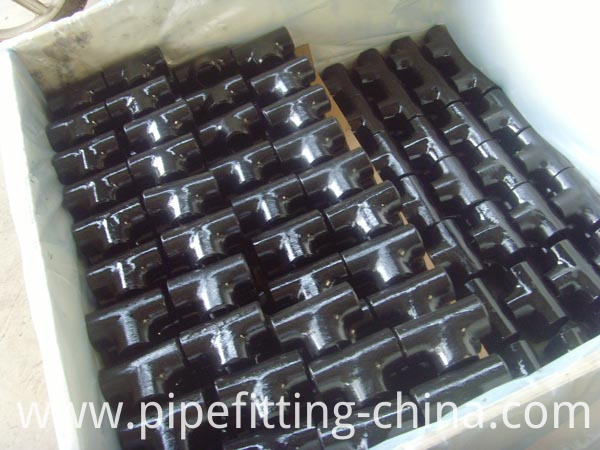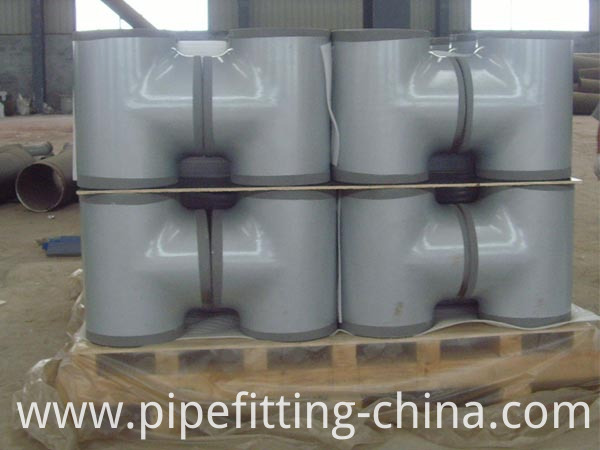 A234 WPB Butt Welded Equal Tee Production Process
Cold Extrusion tee production process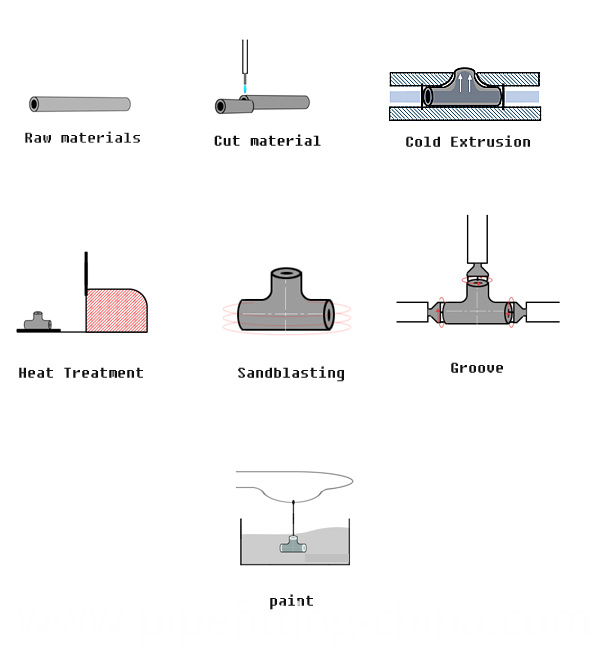 Hot drawing tee production process

Butt tee production process
Tee workshop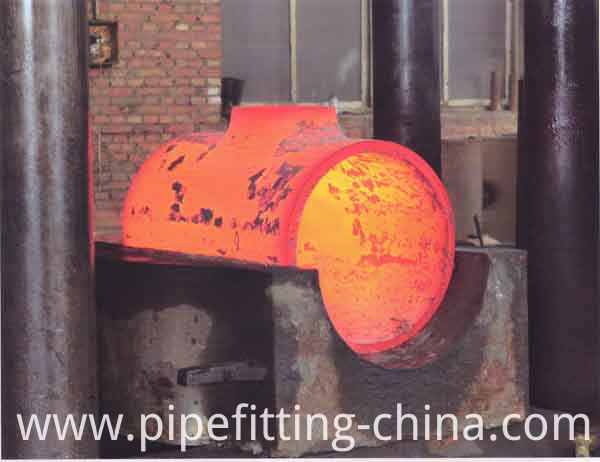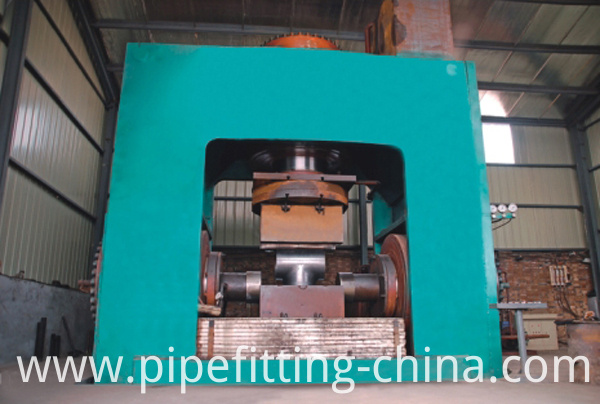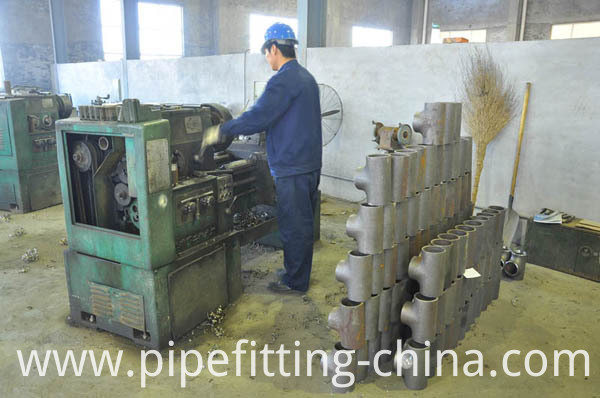 Production Process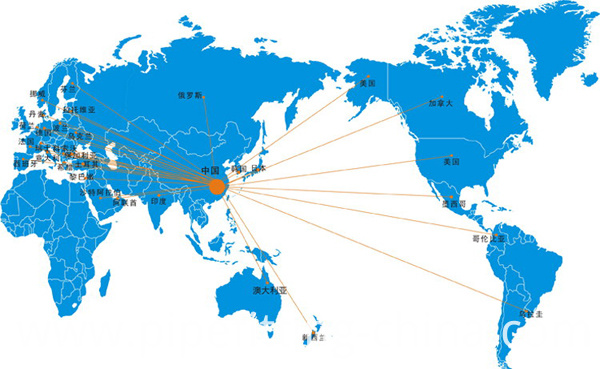 Looking for ideal A234WPB Seamless Tee Manufacturer & supplier ? We have a wide selection at great prices to help you get creative. All the Sch40 ButtWeld Tee are quality guaranteed. We are China Origin Factory of Carbon Steel Buttwelded Y TEE. If you have any question, please feel free to contact us.